Wind Wolves and Waterfalls in Bakersfield
Just 40 miles south of Orange Grove RV Park, you can hike through awe-inspiring scenery with gorgeous wildflowers, abundant wildlife, rock formations, and even an easy hike to a waterfall at pet-friendly Wind Wolves Preserve. Treat yourself to a day trip and enjoy hiking along the San Emigdio Trail and relaxing by the creek that feeds the falls.
The Wildlands Conservancy Wind Wolves Preserve is in an ecologically unique region where three mountain ranges – Transverse Range, Coast Range, and Sierra Nevada – meet the western Mojave Desert and the San Joaquin Valley.
The path is on the valley floor between mountains on both sides. You'll see lizards and birds, maybe even elk. But, fear not – 'Wind Wolves' are wild grasses, not real wolves! You'll reach the top of the mountain and find a lovely reflecting pool after about two hours of easy hiking. Even kids can walk this trail.
Take a shuttle van or to drive about 30 minutes to pet-friendly Wind Wolves Preserve. Bring your camera, snacks, water, and keep your doggie on a leash, please.
Find Wind Wolves Preserve at 16019 Maricopa Hwy, Bakersfield, CA 93311-9780. It's FREE!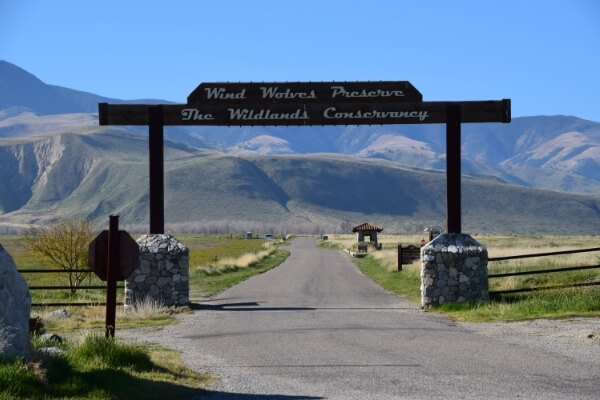 Fun with Dogs and Other Stuff at Orange Grove RV Park
Is your doggie tuckered out after his big day at Wind Wolves…or is he still ready to run around? We have three off-leash dog parks and dog walks all around the park. And if you're still not tuckered out, relax with a game of horseshoes or bring your own brush and give the car or RV a bath at our vehicle wash station. Enjoy cable TV and WiFi too.
The swimming pool, clubhouse, and gym should be back soon!
Enjoy fresh oranges at your own RV site and relax beside a waterfall when you reserve your stay at Orange Grove RV Park.