What's Cookin' at the Crystal Palace
Part concert hall, part honky-tonk, Buck Owen's Crystal Palace offers live music, Buck's rock 'n roll memorabilia, and the best steakhouse in town.
Legendary Bakersfield musician Buck Owens was born a sharecropper, named himself 'Buck' after the family mule, and always wanted a venue that would showcase his unique sound. By golly… he got it. Take yourself on a little side trip to the Crystal Palace for a delicious dinner, some live music, and a tour of Buck's heritage – his over-the-top costumes, cars, and guitars.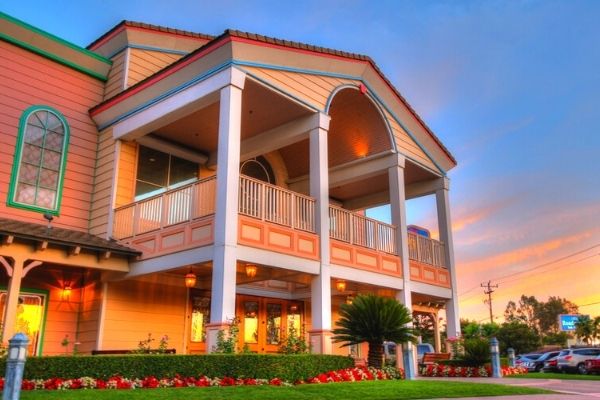 Why cook tonight? The crystal palace will do it for you!
Everybody like steaks, ribs, salmon, and salads. Some of the Crystal Place menu items are named for big country stars…
Brad Paisley's Fish & Chips
Dwight Yoakum's Baby Back Ribs
The Don Rich Special – An exceptional premium top sirloin steak that is the finest in the valley
Buck's Texas Chili
Don't forget Buck's favorites like Buck Burger, The Chicken Fried Steak Sandwich, and the Palace Mud Pie
The Crystal Palace has a big wine list too, featuring reds, whites, and sparkling wines from California and around the world.
The musical heritage of bakersfield
Although Buck himself has passed away, his musical legacy lives on at The Crystal Palace where you can find dinner and dancing every Thursday, Friday, and Saturday.
Reserve your stay at Southern California's most praised RV resort – Orange Grove RV Park – and treat yourself to a musical experience you will remember forever. Pet-friendly Orange Grove RV Park offers…
Crystal clear swimming pool
Clubhouse
Fully-equipped gym
Pick-your-own oranges
The Lodge – a rustic hunting lodge with big screen TV, fireplace, card table, and bar
The Barn – Just right for BBQs and large groups
Three dog parks!
Buck Owens liked dogs too – here he is singing Hot Dog!
Enjoy the Crystal Palace when you bring your family, your appetite, and your doggie, and reserve your stay at Orange Grove RV Park.