Thoroughbred Horse Racing at Santa Anita Park
Take a little day trip from your comfy home-away-from-home at Orange Grove RV Park and head southeast toward Los Angeles on the I-5 S and I-210 E. You'll wind up in Arcadia, home of world-famous Santa Anita Park. If you leave after breakfast, you'll get there in plenty of time for the first race. It takes less than 2 hours to get there. Post time is at 1:00 pm.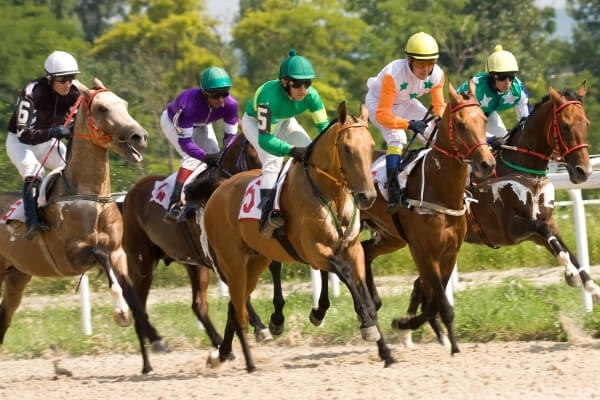 The Seabiscuit* Tour
Or leave Orange Grove at the crack of dawn to be at Santa Anita by 8:45am on Saturday or 9:45am on Sunday to board the Seabiscuit Tram near Clockers' Corner and take a FREE guided tour of The Great Race Place.
The excursion will include visits to the stable area, official Receiving Barn, Paddock Gardens and a drive by Seabiscuit's original barn and stall. Participants will also walk through the normally restricted jockeys and silks room and saddling paddock.
The tour will continue through the walking ring, including its topiaries and statuary and will conclude with visiting the carriage horses in their home underneath the grandstand. Watch morning workouts and enjoy breakfast at Clockers' before this truly unique experience.
Tours depart at 8:45 a.m. on Saturday and 9:45 a.m. on Sunday during live racing seasons. Clockers' Corner is located at the far West side of the grandstand on the track apron. For more information, call (626) 574-6677.
*Who was Seabiscuit? "The Biscuit" was named Horse of the Year in 1938, the highlight of a rags-to-riches 89-race career that allowed him to finish as the all-time leading earner with $437,730 in purse money. He was retired to Ridgewood Ranch in California. In a testament to his popularity, Seabiscuit entertained more than 50,000 visitors in the seven years he spent there before he died.
Santa Anita Safely Re-Opens on April 2
Racing is back on Fridays, Saturdays, and Sundays. Take advantage of contactless admission, wagering, and food and beverage orders with your smart phone! As per new regulations, admission tickets are now sold in 'pods' of 2, 4, and 6. Every ticket-holder is guaranteed admission, a reserved seat, a program, and free self-parking.
Orange Grove is convenient to everything, including thoroughbred horse racing at Santa Anita Park, so bet on a winner and reserve your stay today at Orange Grove RV Park.