Silver City Ghost Town
Not quite a real ghost town, but more than a movie set or museum, Silver City is made up of 20 original structures, transported from the mining camps of Keyesville, Whiskey Flat, old Isabella, Claraville, Hot Springs, Miracle, Southfork and other Kern Valley frontier settlements.
Take a little side trip from your comfy campsite at Orange Grove RV Park to visit Bodfish and see Silver City Ghost Town. It's only 40 miles east via CA 178.
Silver CitY Ghost Town
Starting in the late 1960s, the original owners of Silver City began hauling old buildings that had been slated for demolition from various abandoned mining camps to their own property in Bodfish. Silver City is now composed of authentic cabins, a post office, a general store, a saloon, the old Isabella jail, and a church. The buildings are full of real furnishings from the Gold Rush era.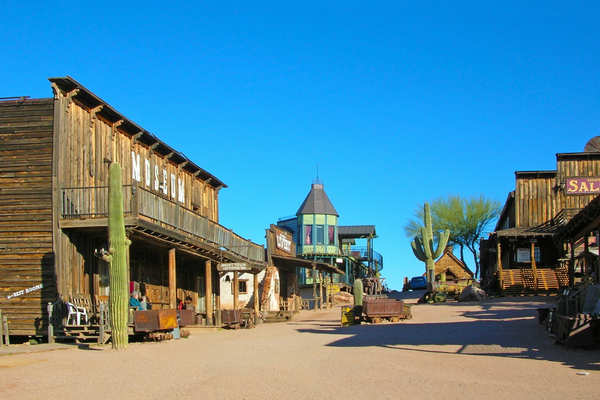 Silver City is listed in National Directory of Haunted Places, but since it's a composite town created from an assortment of old buildings, does that mean the ghosts came with the old structures or did the spirits move in later?
Numerous people –including the new owner of Silver City –claim to have seen buckets and bottles flying through the air and violin strings being plucked without a human hand to do so. Maybe you'll see an orb or a ghost, too.
Silver City Today
The whole town is operated as a museum and has adopted a policy of 'arrested decay.' The old buildings look just the way they did all those years ago. In fact, Silver City is so authentic that it has been the setting for many movies and videos. You can experience Silver City Ghost Town every day of the year except Thanksgiving, Christmas, and New Year's Day. Find the almost-real ghost town at 3829 Lake Isabella Boulevard in Bodfish or call them at (760) 379-5146 for more information.
No Amenities in Silver City, but Lots of Cozy Comforts at Orange Grove RV Park
Folks in frontier towns (let alone in ghost towns) didn't have indoor bathrooms, swimming pools, or cable TV… but you do! Bring your family and your doggie to enjoy the deluxe amenities at California's most unique destination, Orange Grove RV Park. You can even pick your own juicy oranges!