Oranges, Olives, and Wine – The Mediterranean Diet in Bakersfield
If you love wine, sweet juicy oranges, and ripe olives in your salads or on a charcuterie plate, you've come to the right place. Bakersfield is smack dab in the middle of one of the most bountiful agricultural regions in the world. Reserve your stay at Orange Grove RV Park and pick the oranges right off the trees at your campsite. Enjoy the flavors of the Mediterranean diet here in Southern California without leaving the country. Bon Appetit!
Oranges
In Bakersfield, Navel oranges are generally harvested from January to late spring, with blood oranges ripening slightly later. Pick those luscious oranges that are growing on the trees at your RV site now. They are loaded with Vitamin C.
Olives and Wine Grapes Thrive at Rio Bravo Ranch
Our climate is a lot like Italy, Greece, and Spain, so olives and wine grapes are a natural fit for the San Joaquin and Central Valleys.
The olive harvest starts in September here and concludes in mid-November. Wine grapes are also harvested in the fall, but you can enjoy California-grown, organic olive oil and wines from a local vineyard year-round when you visit the store at Rio Bravo Ranch at 15701 Hwy 178 in Bakersfield. Their award-winning extra-virgin olive oils and Zinfandel wines will bring exciting tastes to your Mediterranean diet.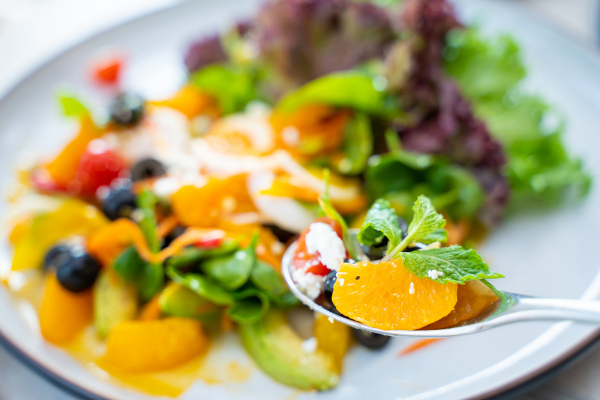 The Mediterranean Diet at Orange Grove RV Park
Whip up a salad in your RV kitchen. Blend the olive oil from Rio Bravo Ranch with fresh-squeezed orange juice from your tree for a zippy kind of vinaigrette on your greens. Serve it up with a bottle of Zinfandel. And if you have lots of friends… you're in luck. The Barn at Orange Grove RV Park is a spacious hall with a big kitchen. It's the perfect place to throw a party and prepare delicious dishes made from just-picked California produce.
No more hot dogs and s'mores around the campfire when you vacation in Southern California. Enjoy the freshest oranges, tangy olives, and robust Zinfandels from Rio Bravo Ranch as part of your delicious and healthful Mediterranean diet when you stay at Orange Grove RV Park.