Camp Songs, Croissants, and Togetherness
When was the last time you sang "The Bear Went Over the Mountain" or "Ninety-Nine Bottles of Beer on the Wall?" Chances are good, it's been a while. You know, every RV park everywhere likes to tell campers about the swimming pool, the dog park, and the fitness center, and we're no exception. Those are great amenities and we're pleased to offer them. But here's what's even more important… the love, memories, and togetherness that come about from sitting by the camp fire and singing camp songs.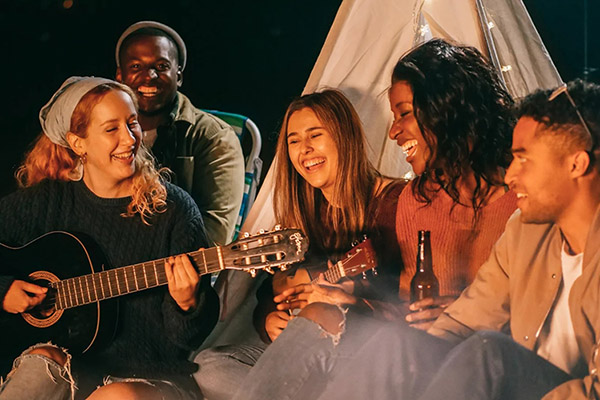 What Are Camp Songs About?
Just in case you never went to Scout Camp or 4-H Camp to learn any camp songs, the sing-alongs around the camp fire are about ordinary outdoors-y things like mountains, bears, wagons, Americana, and food. They are easy to learn, easy to sing, repetitive, and big fun for kids and grown-ups alike.
Speaking of mountains, every once in while a bear wanders out of the Tehachapi Mountains to see what he can see, but the Department of Fish and Wildlife sends somebody out to round Mr. Bear up and take him home. And as for those ninety-nine bottles of beer, you'll find lots of stores nearby with plenty of selections…maybe even 99 of them. So try some old-fashioned togetherness. Sit around the campfire with the family and sing some camp songs.
Croissants and Holiday Togetherness
There may not be any camp songs about croissants (not yet anyway), but all kinds of holidays are coming up, so here is a sure-fire way to please everyone from breakfast to dinner.
Easy Orange Croissant Bake
This is so delicious, you'll serve it for a holiday dessert!
Orange marmalade, cream cheese, and croissants combine to form a bread pudding / baked French toast kind of yummy thing. Pick some oranges from the trees beside your RV here at Orange Grove to zest this dish and somebody will surely write a camp song about it.
Ingredients…
4 croissants, fresh or stale
1 cup of orange marmalade
1 package of cream cheese (8 oz) at room temperature
½ cup sugar
2 eggs
1 cup milk
Zest of 1 orange
½ teaspoon almond extract
Here's How…
Preheat the oven to 350°F.
Tear up the croissants and put them in a greased, 8" square baking dish.
Tuck some spoonfuls of orange marmalade in between the pieces of croissant.
Make a custard of the cream cheese, sugar, eggs, milk, orange zest, and a touch of almond extract.
Pour that mixture over the croissants.
Cover the dish with foil.
Bake 30 minutes. Insert a toothpick. When it comes out clean, bake another 15 minutes to make the top all golden brown
Camp Songs and Croissants at Orange Grove RV Park
Whip up that Orange Croissant Bake in your RV kitchen. It serves 6. And if you have lots of friends and family members, you can make an even bigger batch and host a Holiday party at The Barn. The Barn at Orange Grove RV Park is a spacious hall with a big kitchen. It's the perfect place for a Halloween Party or Thanksgiving Dinner. Book your stay at Orange Grove RV Park to make a lifetime of memories with camp songs, croissants, and togetherness.