Biking In Bakersfield
biking in bakersfield
Biking in Bakersfield can be a 30 mile smooth ride on the Kern River Parkway Trail. Paved with asphalt for its entire length, the bike trail follows the banks of the Kern River under tall trees. Much of the land that surrounds the trail is protected from encroaching development by the City of Bakersfield, so you're likely to encounter rabbits, bobcats and roadrunners during your bike ride. Bring your camera!
The well-maintained trail has emergency phones every mile or so. No vehicular traffic crosses the Kern River Parkway Trail anywhere, so you can go biking in Bakersfield for 30 continuous miles without stopping, if you want to.
The trail's flat, rural western end will make you forget you are biking in Bakersfield city limits but that impression changes as you ride eastward. Soon, you'll pass through residential subdivisions and even an access road to Cal State University. College folks like to ride bikes too!
You'll pedal uphill and down on the hillier eastern end of the Kern River Parkway, where oil rigs dot the trail's landscape before coming to an end at the mouth of Kern Canyon and Lake Ming.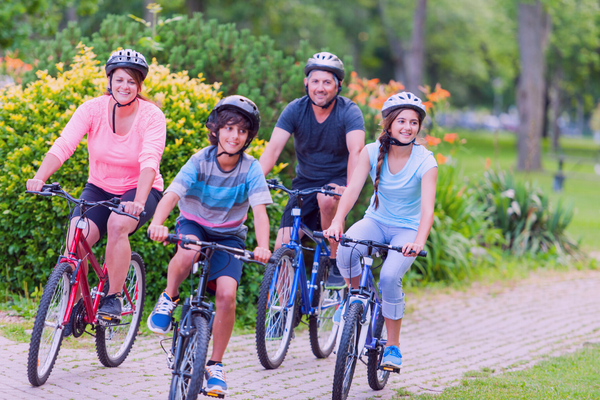 Parking and Trail Access
Trail access and parking is available from several city parks off Truxtun Avenue west of State Route 99. Additional parking can be found where the trail crosses Manor Street and at the Parkway's western trailhead on Enos Lane (SR 43).
Parking for the northeast segment of the trail is available by the California Living Museum zoo, located at 10500 Alfred Harrell Highway.
Meanwhile, back at Orange Grove RV Park
Are you all tuckered out from biking in Bakersfield? C'mon back to Orange Grove RV Park and refresh yourself in the pool before settling back in your own RV and letting the wafting scent of citrus trees perfume your sleep.
There will be lots to do when you wake up in the morning…
Complimentary coffee and donuts
Pick your own oranges for your daily vitamin C
Another swim in the pool
Work out in the gym
Run around with your doggie in the Dog Park
Enjoy life at California's most unique RV park – Orange Grove
You can linger longer with our great promotional rates
We honor Good Sam, AAA, AARP, Military, and Senior Discounts on Regular Overnight Stays